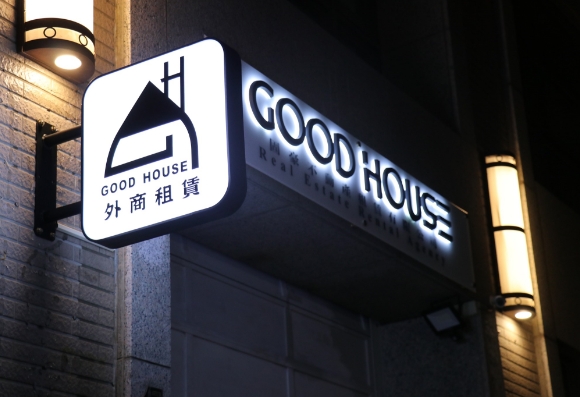 Good House Real Estate, a well-established company, specializing in rental/leasing properties, is here to serve you for the most fitted lifestyle in town.

We are a team of professional agents that are equipped with extensive experience in real estate and are affiliated with numerous local and international construction companies that are known for quality projects.Our mission is to strive for the ultimate satisfaction of our customers.

Come to Good House, and you will experience the most thorough understanding of the surrounding neighborhood and in-depth market analysis that will assist you finding your ideal home in town.

In addition, our multi-lingual team (Chinese, English, Japanese) will make you feel just like being "home."

Here at Good House, we serve you exclusively for your desired services.
Dear customers: We are Good House Real Estate, the ONLY real estate renowned for leasing and rentals in this area. Our mission is to serve you exclusively for your unique needs to match up the best tenants with the highest qualities of homes, offices, or stores.

In addition to apartments for individuals or families, we have a proven track record of getting leases signed for offices and brick-and-mortar stores.

In spite of countless complimentary customer reviews, we never stop striving for continuous improvements, thus establishing us as a brand that takes pride in highly specialized staff and ambient service approaches.

Honesty and modesty are virtues that shape our values, making us a trustworthy partner while your are looking for your new site.

We own our own rental properties of quality while cooperating with a wide range of companies, which ensures your expectations being met because nothing is more important than our customers' satisfaction.

Besides, our extensive service hours from 9:00~ 24:00 makes it easy for you to reach out and chat with us even after a hectic day of work.
Our service as well as leasing terms and conditions
REAL ESTATE RENTAL
Large houses
Offices
Brick-and-mortar stores
New houses
Advantage of Our Service
OUR ADVANTAGE
Advantages toward our customer services
The Advantage of Our Service Contact us and become one of our preferred customers, and you will be privileged to find the best fitted home within your budget because we cover the most diverse and newest properties in the region. Pick-up Service and In-depth Orientation for All Desired Properties
Our highly specialized agents will pick you up and guide you through all relevant facts and information related to the subject properties and their surrounding environments, making your house hunt time-efficient and effortless.
Language is never a barrier at Good House. With the most versatile language services, our multi-lingual commissioners will communicate with you, assisting you in all aspects. With one phone call or just one text, we will be at your service 24/7. It's our utmost pleasure to assist you when you are in Taiwan.
100% Legit and Safe. As a licensed rental/leasing company, we practice in compliance with the strictest regulations and highest values. All houses we cover must go through legal and safety inspections.
---
Advantages of Our Landlord Services
Specialized leasing services


We've successfully closed more than 500 deals for property/construction companies and landlords.

Professional service teams


Multi-lingual (Mandarin, English, Japanese, etc) escrow officers, managers, and legal service teams.

Honest, enthusiastic, and pragmatic


We will screen and pick the highest quality tenants for you. Our professional negotiation and instant assistance is to solve your problems effectively.
---
Before signing the contract
We assure you of a thorough understanding of your new home/office/store and the surrounding areas. When signing the contract, it's our job to provide you with detailed and transparent terms and conditions required by law.
Amidst the leasing period
Please scan the QR code for Mandarin, English, and Japanese services (We're currently constructing our system for Vietnamese, Thai, and other language services).
Feel free to contact us for future plans and assistance. You will always be entitled to our privileged services.
---
Decide your own rental needs and expectations
First of all, please choose and decide where you would like to live and the budget you prefer. Your preferred area has to determined by your own expectations, such as your safety requirements for a region, the convenience towards work, school, or transportation, etc. We recommend that you make a list from most to least preferred standards.
Inquire and visit
You're welcome to contact us via the phone, text, or e-mail for further details related to your inquiry and the estimated move-in date. If you prefer a walk-in visit, please make an appointment and tell us your needs via the phone, text, or e-mail so that we can find the best houses for you and arrange a pick-up service to show you round. When visiting the houses, the landlord will mostly request to be on-site. In conclusion, making appointments gives us more time to prepare for better services.
House tour
Please avoid visiting more than 3-4 houses a tour since too many houses might affect your impression of the house, hence impacting your decision making. 3-4 houses will be the most preferred number per tour. If you would like to know more about the surrounding environments, we advise you to go around the area when you are free. This is a great way for you to be truly familiar with the surrounding environments. Please inform us beforehand whether your contract will be less than a year or whether you have pets.
Discussing contract contents
When you finally decide on a suitable house, you're welcome to discuss the leasing contract with us. When both the tenant and the landlord are exchanging the contract, please confirm the following terms: Take the HOD for example. Who will be paying the monthly HOD (home owner due)? When is the HOD due monthly? Please discuss and confirm with your landlord. Some houses require the HOD while some don't. Payment options differ according to different landlords. Therefore, the payment option is mostly divided into two ways, which means that you either pay monthly or once in a few months. The contract lasts for one year in general. If you terminate the contract unilaterally before it expires, you will have to compensate the landlord for one month of rent, which will be deducted from your upfront deposit of two months' rent. Please make sure whether there will be such a penalty for breaching the contract when you sign the lease. In addition, please keep in mind that there is a deadline for you to move out when the contract expires.
Preliminary agreements, contracts, and move-ins
1. According to leasing regulations, Good House is responsible for contract preparations. When signing a contract, please prepare money for payments and required documents. In order to avoid unnecessary misunderstanding, please verify and confirm contract details before you sign.

2.Move-ins
Please inspect the functionality of all gears and appliances in the house after you move in, such as faucets, power switches of all electronic appliances, etc. If there are any damages, malfunctions, or incompletions, please contact us as soon as possible so that we could assist you instantly. In Taiwan, the tenant might be responsible for the repairing costs after moving into the house for over a month (after the landlord passes the house keys to the tenant). As a result, please inspect thoroughly after you own the rights of the house.
Termination of the contract
If you decide not to renew the lease when the lease expires, we will inform the landlord of your moving out; however, please inform your landlord of your moving-out 30-60 days in advance. If you decide to terminate the contract unilaterally before it expires, you may be subject to a penalty, so please be familiarized with the leasing terms before terminating the lease.
Expiration of the contract and renewal of the contract
The contract expires upon the date specified in the contract. If you wish to renew the contract, please notify us 1-2 months in advance. Step8. Returning the house Before moving out, the tenant has to restore the condition of the house back to its original state. When you've decided on the move-out date, please contact us. Please keep in mind that the landlord may demand water, electricity, cleaning or damage fees from the tenant, which will be deducted from your upfront deposit, if the returned house fails to meet its original condition.
Throwing a lease
When drawing back a lease, the tenant has to restore the living condition back to its original state. When you've decided the move-out date, please contact us. Please keep in mind that the landlord might demand water, electricity, cleaning or damage fees from the tenant when ending the contract.